Join Athena and the Saints' battle in their latest anime adventure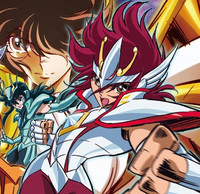 The latest title to be announced for Crunchyroll's spring anime lineup is Saint Seiya Omega, produced by Toei Animation and directed by Morio Hatano (episode director on Heartcatch PreCure!, Kaidan Restaurant).
The new adventures of Athena and her Saints will be available in the United States, Canada, United Kingdom, Ireland, South Africa, Australia, and New Zealand. Keep your eyes on the series' page when it goes live, as well as this post, for more information.
Story:
Saints are champions of hope who have always appeared since the Age of Myth whenever evil threatens the world. They would clad themselves in armor called Cloths, and fight to protect Athena, the goddess who rules the world's surface. Seiya the Pegasus Saint has saved Athena many times, and while he and his friends are Bronze Saints, which is the lowest rank, their battles have been passed down as legend.
The god of war and guardian of his namesake planet, Mars, was once sealed away by Seiya, but time has passed and his revival is at hand. Meanwhile, Saori Kido (Athena) is raising the boy Kouga, whose life Seiya saved, and he's been training every day to become a Saint in order to prepare for the coming crisis... Unaware of his destiny, when Kouga awakens to the power of his Cosmo hidden inside him, the curtain will rise upon the legend of a new Saint!