Being abnormally lucky can be a bad thing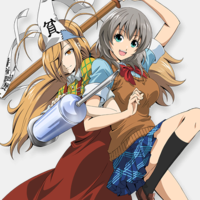 While the domain had been found a few weeks ago, the official website for the previously announced TV anime adaptation of Yoshiaki Sukeno's Binbougami ga! comedic manga has just recently partially opened. revealing that the series will be airing this summer and the anime's main staff. The anime will be animated by Sunrise with Youichi Fujita (Gintama ep 100+ director) directing, Kento Shimoyama (Bleach ep 317+ series composition) doing series composition, and Kenji Tanabe as character designer.
Binbougami ga! tells the story of an extremely lucky girl, Ichiko Sakura, and the draining type god of poverty Momiji who has been sent to the human world to make Ichiko normal.
via 0takomu
Image © 助野嘉昭/集英社・「貧乏神が!」製作委員会
Previously: "Binbougami ga!" Manga To Be Animated