Anime adaptation airs Monday 4/2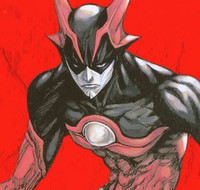 One of the most anticipated anime series of the year in ZETMAN is getting a US simulcast courtesy of Viz Media, which will begin streaming tomorrow Monday April 2nd.
The series is based off of the manga authored by Masakatsu Katsura about a face-off between two rival heroes, ZET and Alphasz, and then traces their origins - Jin Kanzaki, a young man with the ability to transform into a superhuman being known as ZET, and Kouga Amagi, a young man with a strong sense of justice who uses technology to fight as Alphasz.
The fates of these two men and those around them intertwine as they fight to protect mankind and destroy monstrous abominations known as Players, who ironically are the creations of the Amagi Corporation, the company founded by Kouga's grandfather, Mitsugai Amagi. The latest trailer has been subbed by Viz and is embedded below.
With the Spring season ramping up, who's excited to watch Zetman?
---
Humberto Saabedra is the Editor-in-Chief of AnimeNews.biz, PhoneNews.com and an occasional columnist for Ani.me. He can also be found musing on his favorite 2D girls at @AnimeNewsdotbiz.