Episodes 1-42 headed to a Japanese language set with English subs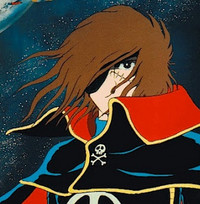 Discotek Media just announced the original Space Pirate Captain Harlock TV anime via its Facebook page. Episodes 1-42 are planned for release soon in one complete box set, in the original Japanese with English subtitles.
Harlock is directed by Rintaro (Galaxy Express 999, Metropolis), and originally aired on TV Asahi from 1978-1979, and is based on the manga by Leiji Matsumoto. More info on the release as it's made available. Anyone looking to pick this classic up when it comes out?