Comedic "Naruto" spin-off streams starting April 3 at 2:30 am PDT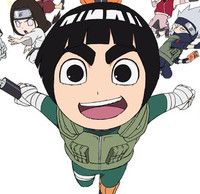 Those looking forward to the Naruto spin-off comedy, Rock Lee & His Ninja Pals (AKA Rock Lee no Seishun Full-Power Ninden), can mark their calendars for tomorrow. As the latest addition to Crunchyroll's spring anime lineup, Rock Lee will start streaming on April 3 at 2:30 am PDT.
Rock Lee & His Ninja Pals will be available to premium members worldwide except for members in Japan, France, Belgium and Switzerland, closely following its broadcast. Free members can watch the episodes one week later with the same geographic restrictions.
Based on Kenji Taira's manga and directed by Naruto Shippuden film director Masahiko Murata, the series follows the bushy-browed Rock Lee and the comedic happenings that surround him in the ninja village. Expect plenty of familiar faces, just in a not-so familiar SD style.