He'd thank you from the bottom of his heart… if he had one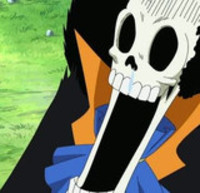 Today's big birthday goes to none other than Brook, the Straw Hats' resident skeleton musician! He may be busy on a host of adventures on his way to reunite with his old whale pal Laboon, but I'm sure he's got time to belt out a quick birthday tune or two.
Who are we kidding? Brook is a bone-afide (sorry) ROCK LEGEND! He's the Soul King! Nothing solidified his legacy more than his stint as a rock idol prior to the crew's departure for the New World, so let's wish him a very happy birthday in the most outrageous way possible!
YEAH! BROOK! BROOK! BROOK! BROOK!
Do it for Laboon! Happy birthday!
Wait, how does Brook cry again?
Images © Eiichiro Oda/Shueisha, Toei Animation