Nico Nico short to screen at Chokaigi April 28th and 29th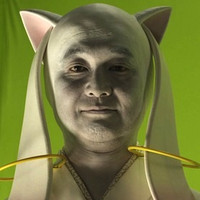 Was it by sheer coincidence that the Puella Magi Madoka Magica live action comedy spin-off was announced on April Fools and considered even by Japanese fans to be a joke? In any case, we now know the truth about Magika Shirabe!
The anime has been adapted by NBS announcer Hisanori Yoshida into a rakugo by mashing it up with "Daiku Shirabe," a classic comic tale (i.e. rakugo!) about a carpenter whose landlady confiscates his toolbox since he can't afford rent (which of course renders him unable to work). The comedy seems to rely on wordplay, so it will be interesting to see how Magika Shirabe turns out.
If the puns are lost on non-native speakers, at least you'll be in on the cast:
Otaku talent Shōko Nagagawa plays Madoka:
Hiroyuki Nishimura (founder of 2ch, now at Niwango, which runs Nico Nico Douga) cross dresses as Homura:
Businessman (and former senior VP of mobile company NTT DoCoMo) Takeshi Natsuno plays Kyubey:
Award-winning broadast journalist Soichiro Tahara plays the magistrate:
Magika Shirabe is a 15 minute short that will screen at Nico Nico's convention Chokaigi April 28-29 at Makuhari Messe in Chiba City. Does this seem too off the deep end or just crazy enough to be amazing?