First episode airs Sunday, April 8th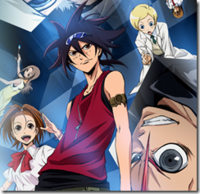 Crunchyroll prepares to unleash a barrage of brain teasers and mind-bafflers as Season Two of Phi Brain is set to join the spring lineup of anime.
Originally airing on NHK Educational in Japan, Phi Brain (AKA Phi Brain: Puzzle of God) is produced by Sunrise Animation (Gundam, Tiger&Bunny) and is directed by anime veteran Junichi Sato (Sailor Moon, Junkers Come Here, ARIA).
Here's the official synopsis:
"Kaito, a puzzle-loving high school freshman, is selected as a candidate for 'Phi Brain.' He and his friend Nonoha find an 'unsolvable puzzle' near their school. The puzzle turns out to be a life-threatening 'philosopher's puzzle' created by the mysterious group P.O.G. (Puzzle Of God). After successfully solving the puzzle, Kaito is designated as a Solver and is joined by other Solvers as they battle P.O.G. all over the world by solving the 'philosopher's puzzles.'"
The first episode of Phi Brain Season Two airs Sunday, April 8th, and will be available to Crunchyroll's audience in North America.