Movie opens in Japan August 18th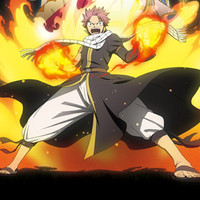 It's leaked out onto the net before, but movie studio and theatrical anime distributor Shochiku has now posted a watchable quality version of the Fairy Tail movie teaser. Emphasis on "teaser," because you're getting only a glimpse of animation with all the flames and text. Still, it's hard not to get excited.
The film features Animation Production by A-1 Pictures, a script by Masashi Sogo (who was responsible for series composition on the TV show), and is directed by Masaya Fujimori, whose previous directorial works include Omae Umasoudana, and a Nintama Rantarou movie. It's set to premiere on August 18, 2012.
An older, lower quality, but subtitled version of the clip...