Get addicted to her drool starting April 8 at 9:30 am PDT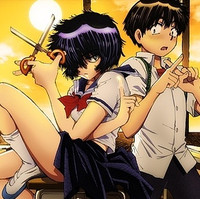 Crunchyroll is adding an addictive substance to its spring anime lineup in the form of Mysterious Girlfriend X (Nazo no Kanojo X), based on the Afternoon manga by Riichi Ueshiba. The stream kicks off on Sunday, April 8 at 9:30 am PDT.
Mysterious Girlfriend X will be available in the United States, Canada, United Kingdom, Ireland, South Africa, Australia, New Zealand, Denmark, Finland, Netherlands, Norway, and Sweden.
Ayumu Watanabe (Space Brothers) directs the anime adaptation, with animation production by Hoods Entertainment (Seikon no Qwaser, Aki Sora: Yume no Naka).
Story:
MYSTERIOUS GIRLFRIEND X follows the relationship of Akira Tsubaki and Mikoto Urabe, who is a transfer student who recently came to Tsubaki's school. After a series of strange events, Tsubaki finds himself addicted to Urabe's drool. Once she claims the addiction as love sickness, the relationship slowly progresses, focusing on the odd bond that comes out of the drool attachment...