Is This a Zombie!?...Of The Dead, Lupin III: The Woman Called Fujiko, and Jourmugand to be simulcast via Funico partnership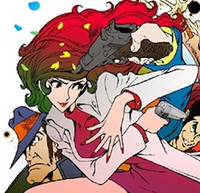 To close out its 90 minute panel at Anime Boston, Funimation announced three new simulcasts via its Funico partnership with Nico Nico in Is This a Zombie!?...of the Dead Lupin the 3rd: The Woman Called Fujiko and the Jormungand anime adaptation.
The Jormungand anime adaptation will air on April 10th, with Funimation confirming that it will air both parts of the series, which is meant to adapt the entire 11 volume manga authored by Keitaro Takahashi about the female arms dealer Koko Hekmatyar, Jonah, a former child soldier who joins Koko's mercenary unit. Valmet and the mercenary leader Lehm. The first series will begin airing on April 10, and the second season will premiere in October to finish the entire 11-volume story from Keitarō Takahashi's manga. Funimation confirmed that it will simulcast both parts of the series.
Is This a Zombie? of the Dead is a sequel to the Is This a Zombie? television anime series, which aired last year. Is This a Zombie? of the Dead aired on April 4 in Japan. Crunchyroll streamed the first season into several countries as it aired in Japan, and Funimation also announced that it licensed the first season.
To close out the announcements, Funimation laid out the biggest bombshell of the weekend by announcing the simulcast rights to the new Lupin the 3rd series Lupin III - Mine Fujiko to Iu Onna (Lupin III The Woman Called Fujiko Mine) The series began airing this past week in Japan on April 4th and is the first Lupin III TV series project to air on Japanese television in 27 years.
In ancillary details announced with the simulcasts, Funimation also announced that it acquired home video rights for the currently held Future Diary series, though no further details were provided.
---
Humberto Saabedra is the Editor-in-Chief of AnimeNews.biz, PhoneNews.com and an occasional columnist for Ani.me. He can also be found musing on his favorite 2D girls at @AnimeNewsdotbiz.