Confirmation made during Sentai Filmworks panel at Anime Boston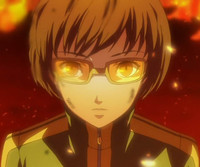 During its industry panel for Anime Boston attendees, Sentai Filmworks confirmed that the company has been able to retain the English dub cast used in the Playstation 2 game for the anime adaptation, which will be a good way for both Atlus and the anime distributor to cross-promote the property with the forthcoming release of Persona 4 Arena.
This comes after months of speculation regarding the ability for the company to reunite the entire cast, as Sentai previously stated last year that it was being considered as a possibility that hinged on availability for all actors in their respective roles.
In additional news regarding Persona 4 The Animation, while Sentai has confirmed the return of the game's English dub cast, it has yet to confirm the release pattern and formats for the series, as it apparently needs to gather more information on the streaming numbers in order to gauge which release format and pattern to best release the series on, as the licensor still has yet to decide on home video format and and digital distribution formats for sale.
Any fans of either the anime or the game excited at the English dub cast reprising their roles for the series?
---
Humberto Saabedra is the Editor-in-Chief of AnimeNews.biz, PhoneNews.com and an occasional columnist for Ani.me. He can also be found musing on his favorite 2D girls at @AnimeNewsdotbiz.