Company also rereleasing "Oreimo," "Garden of Sinners" on DVD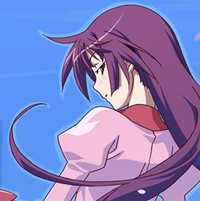 One of a handful of announcements from Aniplex of America yesterday at Sakura-Con was the acquisition of the Bakemonogatari TV anime. It's unclear whether that release will be digital, on home video, or both, but Aniplex is premiering the first episode of the show at the con today.
In addition to licensing the 15-episode Akiyuki Shinbo-directed NisiOisin adaptation, Aniplex also announced rerelases of both Oreimo and Garden of Sinners on DVD. The limited edition 2011 Oreimo DVD box set sold out, and the new release will be a regular edition DVD with the 12-episode series and four video episodes. The initial 2011 Blu-ray box of the Garden of Sinners movie series also sold out, hence the rerelease of the ufotable-animated set. More details on both releases are coming soon.
Finally, Aniplex will be releasing four albums by Japanese singer LiSA, who has performed songs for Angel Beats! and Fate/Zero, and will perform at this year's Anime Expo in LA. The digital and physical album releases are due out May 1.
Anyone looking forward to owning a copy of Bakemonogatari, or the rereleases of Oreimo and Garden of Sinners? Did you manage to pick up either of those two the first time they came out?
Via ANN