The manga artist and movie maker's 39-year career, from "Steam Boy" to Batman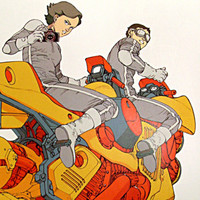 Following a preview night on April 7th, the Katsuhiro Otomo GENGA Exhibition has opened to the public. Through May 30th, 3331Arts Chiyoda is hosting a look at the 39-year career of the legendary manga artist and movie maker, with 3,000 pages of manga, 2,300 pages from Akira's development, and a look at his works from Domu: A Child's Dream and Steam Boy to his Batman comic.
Katsuhiro Otomo GENGA Exhibition will be raising funds to Otomo's home region, Miyagi Prefecture, which was severely affected by the March 11, 2011 earthquake. For a donation, visitors can put on a replica Kaneda jacket and pose on the hero's motorcycle.
The exhibit will also be previewing Otomo's new anime short, "Fire."
Kadokawa Shoten President Shinichiro Inoue:
Doujin artist Saiya:
Awa Odori summer festival dance:
Exibition background music is by Haishima Kuniaki (Blue Gender, Macross Zero, Spriggan), who did the soundtrack on Otomo's Mushishi adaptation.
Lenticular sheet - ¥ 300 each ($3.70)
Akira, You, and Fireball posters - ¥ 1,200 ($14.75) each
Buttons
Stickers - ¥ 600 each ($7.40) each
Tote bags - ¥2,500 ($30.70)
Collages by art director Naoki Sato ¥2,500 ($30.70)
Clear files - ¥ 1,200 ($14.75) each
Postcards - ¥1,200 ($14.75) each
BEAM T-shirts ¥4,200 ($51.60)
Fireball
Tetsuo and Cho ¥ 4,200 ($51.60)
Gush # 2 & Tetuo ¥ 5,040 ($62)
Manifold_Model & Kaneda ¥ 5,040 ($62)
39Pieces ¥ 4,200 ($51.60)
DJ Tech ¥ 4,200 ($51.60)
Shinji Tejima and Showa Studio's Kaneda bike replica has been touring Japan to promote the event and raise money for charity.
via the exhibition site, Radio Kaikan, Gizmodo, Comic Natalie, Mantan Web