Voice actors report not being contacted by Sentai Filmworks before or after Saturday's announcement at Anime Boston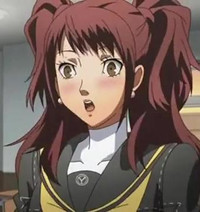 Last Saturday, I reported that Sentai Filmworks had confirmed that it would bring back the dub cast for the Persona 4 game in order to dub the forthcoming home video release. As it turns out, that confirmation came as a surprise to the majority of the game's original cast as well, with a few reporting that they had not been contacted by Sentai Filmworks to reprise their respective roles, before or after the announcement was made.
Yuri Lowenthal released the following statement to AnimeVice correspondent Nick Robinson earlier today:
"I don't know what Sentai's up to, I'm sorry to say." "Yikes, I've heard back from half a dozen cast members, and none of us have been contacted."
Cast member Michelle Ann Dunphy had a similar response tinged with optimism regarding her return:
"To be honest, I don't think Sentai has spoken with any of us," "I'd be psyched to come back and play Margaret and Ayane again in the anime, but as of right now? I won't count my eggs before they've hatched." "I love how different these roles are, and hope that what Sentai says is true and that we'll all be returning to our roles for the anime,"
To make matters more confusing, another member of the game's cast in Karen Strassman has confirmed that she had indeed reprised her role in the game for the anime as well as the upcoming Persona 4 Arena as late as last month.
"[I've] been recording hours of lines for Aigis and Nanako all through the month of March, and [I'm headed] back in the studio to record more on Tuesday!" she said. "I'm so wonderfully happy to be finding these characters again. I think people are really going to love this one!"
When contacted for further clarification, Sentai Filmworks rep Mike Bailiff had only this statement to give:
"accurate, except for one cast member (Kuma/Teddie, voiced by Dave Wittenberg) who is unavailable."
When asked why the cast members were not informed prior to or after the confirmation, he could not provcide an answer.
With this information now coming out, this puts the original announcement into question and suggests that Sentai Filmworks had neglected to inform the cast of their plans to begin with, raising more questions than answers regarding the handling of the English dub. What does everyone else think?
UPDATE: Karen Strassman has sent along a statement clarifying her recent voice work being done specifically for Persona 4 Arena and has further confirmed that she has done no work on Persona 4 The Animation, nor has she heard from Sentai regarding reprising her roles in the original game:
"Oh geez, I goofed. I've been recording ARENA. I know absolutely nothing about the "ANIMATION." Sorry, didn't read ur email closely enough. Haven't heard a peep from Sentai about any of this either. Wow, very weird. -karen."
---
Humberto Saabedra is the Editor-in-Chief of AnimeNews.biz, PhoneNews.com and an occasional columnist for Ani.me. He can also be found musing on his favorite 2D girls at @AnimeNewsdotbiz.