Fangamer's fancy decks can be yours for fifteen rupees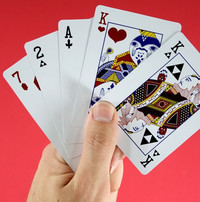 Based on a concept by Nelde, Fangamer is now offering decks of playing cards based on The Legend of Zelda. These classy and handsome cards can be yours for fifteen bucks, and should make your next game of Poker, Solitaire, or some random drinking game that much more exciting.
Check out the various card designs below, from suits based on classic items to all the characters that sit in for regular deck royalty.
Via Destructoid