Dance manga kicks off in August issue of Margaret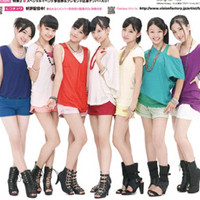 Seven-member teen J-pop group Fairies will soon have their own manga series running in shoujo anthology Margaret (past home of Hana Yori Dango, CMX release Swan, and genre classics Rose of Versailles and Aim for the Ace!). The series, about girls inspired by Fairies to becomes dancers, starts in the magazine's August 4th issue.
Sawano Yuji, editor-in-chief of Shueisha Inc., said that he started planning the series when he learned that dance would be introduced as a compulsory subject in Japanese high schools. "When I heard the news, I started to feel agonized thinking about whether I could make a dance manga. Fairies, who display wonderful dancing, are perfect as the heroines. I will do my best to make this a manga that will make readers think, 'dance is fun'," Sawano said.
Faires, which formed last year, skews young in its membership, with Shimomura Miki, Hayashida Mahiro, Kiyomura Kawane, Ito Momoka, Fujita Miria, Nomota Sora, and Inoue Rikako aged between 13 and 15.
via Asgard