See where you'll be interacting the most in Gust's next game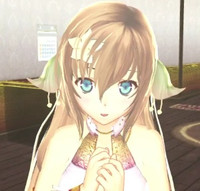 Despite having learned quite a bit already about Atelier series developer Gust's life sim, Ciel no Surge, it still comes off as a mysterious title. In the latest clip, we get a look inside Ion's room, where you'll spend much of your time, interacting with her while she creates items, eats breakfast, and attempts to restore her memories.
Some of the game events are tied to the Vita's clock, so you can synch when you wake up—Ion gets up bright and early at 7am, FYI—and go out with Ion when she's been successful at making items. You can also send fairies into Ion's mind to assist in repairing it.
Though it isn't subtitled, another video was released featuring Ion's voice actress in a special interview.
Ciel no Surge hits PlayStation Vita on April 26 in Japan.
Via Siliconera