Service available to all Spanish-speaking Latin American countries with select simulcasts and catalog titles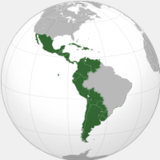 After weeks of private testing, Crunchyroll continues its plans for world domination service expansion around the world by expanding its online streaming service to all Spanish-speaking countries in Latin America, which includes Central and South America.
The Latin America service launch includes the opening of a localized portal in Spanish with select catalog and Spring 2012 simulcasts featuring Spanish subtitles and the lineup currently consists of the following titles:
NARUTO SHIPPUDEN, SKET DANCE, BODACIOUS SPACE PIRATES, RECORDER AND RANDSELL, THE KNIGHT IN THE AREA, FATE/ZERO REMIX II, SENGOKU COLLECTION, SAKI: EPISODE OF SIDE A, SHIROKUMA CAFÉ, NARUTO SPIN-OFF: ROCK LEE AND HIS NINJA FRIENDS, NYARKO-SAN: ANOTHER CRAWLING CHAOS, FOLKTALES FROM JAPAN, HIIRO NO KAKERA, SPACE BROTHERS, UPOTTE, YURUMEI 3D, OZMA, YOU AND ME, MYSTERIOUS GIRLFRIEND X, KUROKO'S BASKETBALL, and TSURITAMA.
More catalog titles and simulcasts will be added to the Latin American portal in the coming weeks. In addition, Crunchyroll has also added the option to pay for Premium Memberships in local currency as well as the usual payment methods in a major credit card and PayPal for supported countries. The following rates for the Premium Membership are as follows on a per country basis and are set as monthly rates:
Argentina: 20 ARS, Bolivia: 35 BOB, Chile: 2490 CLP, Colombia: 9900 COP, Costa Rica: 2490 CRC, Dominican Republic: 189 DOP, Guatemala: 39 GTQ, Honduras: 89 HNL, Mexico: 69 MXN, Nicaragua: 109 NIO, Panama: 5 PAB, Paraguay: 22000, PYG, Peru: 13 PEN, Uruguay: 99 UYU, and Venezuela 20 VEF. Regular users can also sign up for the standard 14 Day Trial.
Here's how to access the Spanish version if you're curious:
1. Log in as normal
2. Scroll down to the bottom of the site
3. Under the "Language" header with the tiny flag next to it, select "Español"
This represents a tipping point for anime in Latin America, as anime fans in those countries would previously have had to depend on either cable/broadcast TV with no guarantee of seeing the latest anime or relying completely on fansubs due to the lack of legal options for streaming. As a native Spanish speaker, I'm excited to see that there's finally a legal avenue for the latest anime being made available in Latin America.