Game to feature "Bride" Saber and Sakura Matou look-alike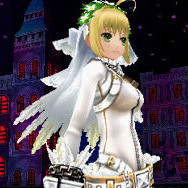 Fate/EXTRA, an alternate universe Fate spin-off PSP game released in North America by Aksys, gave users "Red" Saber, and a lot of other amazingly bizarre masters/servants, such as a pair of Alice in Wonderland look-alikes or a burger chain mascot clown teamed with Vlad the Impaler.
The sequel, set to feature "Bride" Saber and a mystery girl who looks and is voiced by the same actress as the teen version of Fate/Stay night and Fate/Zero's Sakura Matou, was supposed to hit Japan in Spring. However, the Imageepoch developed RPG has been pushed back by Marvelous AQL to winter 2012.
UPDATE - A nice bit of news for Fate fans just came out of Famitsu. Like the first game, the player picks a male or female student for their player character master, then they select Servant partner: Saber, Archer, Caster... or, new to Fate/EXTRA CCC... "King of Heroes" Gilgamesh.
The previously announced limited edition, branded "Type Moon Virgin White Box," will include the following bonuses:

"Fate/ Extra CCC Virgin Bride" - Saber dressed in wedding dress
Limited Edition Bonus:
- The PSP boxart by Takashi Takeuchi
- Base Bride figma
- A visual artbook collection
- Sakura Tange (Saber) limited character song album