Features art of all playable characters from three Namco Bandai artists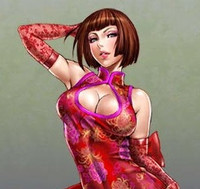 Namco Bandai not only boasts one of the most enduring and popular 3D fighters with the Tekken series, but it also has some of the best concept and character artists around. A fan on NeoGAF got a hold of some amazing artwork featuring all the playable characters from Tekken Tag Tournament from three different Namco Bandai-affiliated artists: Tomio Fujisawa, JUNNY, and Shunya Yamashita.
The best part about this art is that it's all available in the arcade version, and once you unlock individual pieces, you can use them for your team portraits:
So far, this feature is only available in the arcade version, but one can assume that it will be available in the "better than arcade" home version that's coming out in September. If that's the case, I've got a lot of unlocking to do so I can redo the whole cast's portraits in 2D. Check 'em out!
Alisa Bosconovitch, cyborg sweetheart

Anna Williams, Nina's crazy sister who thankfully fights unarmed in-game
Armor King, wrestling legend and mentor to King
Asuka Kazama, local hero and Jin's cousin

Baek Doo San, endlessly patient master of Hwoarang

Bruce Irvin, Muay Thai champ

Bryan Fury, cyborg psychopath

Christie Monteiro, capoeirista cutie

Craig Marduk, like Brock Lesnar but dumber

Devil Jin, who you play if you really want to make your friends hate you

Eddy Gordo, who sadly doesn't get a Tiger Jackson costume this time around
Emilie "Lili" de Rochefort, infuriating heiress

Feng Wei, badly in need of anger management

Ganryu, who needs to get over his thing for Julia

Heihachi Mishima, now younger and more ridiculous-looking

Hwoarang, hotheaded student of Baek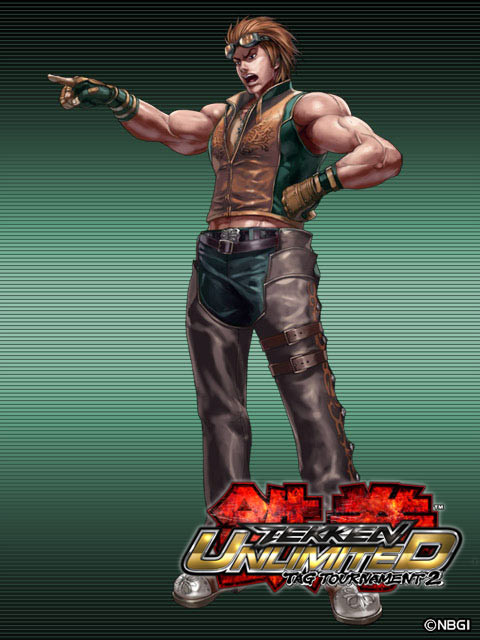 JACK-6, newest model of the robotic super-soldier
Jaycee, who is totally not Julia Chang
Jin Kazama, ice-cold leader of the Mishima Zaibatsu
Jinpachi Mishima, terrifying resurrected ancestor of Heihachi, Kazuya, and Jin
Jun Kazama, long-lost mother of Jin who only shows up for Tag Tournament titles

Kazuya Mishima, who can never, ever stay dead
King, master of folding your clothes while you're still wearing them

Kuma, in Bear with English Subtitles

Lars Alexandersson, who I really hope is not the new hero of the Tekken series

Lee Chaolan, totally EXCELLENT

Lei Wulong, action-hero cop with terrible luck

Leo Kleisen, whose gender is the subject of much debate

Ling Xiaoyu, scary Jin fangirl

Marshall Law, who needs better friends than Paul Phoenix

Miguel Caballero Rojo, serial puncher

Mokujin, who experts (or showoffs) play as

Nina Williams, heartless assassin who wants you to forget Death by Degrees ever existed

Panda, who needs a restraining order against Kuma
Paul Phoenix, badly in need of credit counseling

Raven, allowing us all to let out our inner Blade fanboy

Robert "Bob" Richards, like playing as a caucasian Sammo Hung

Roger Jr., the most accurate video game kangaroo ever

Sergei Dragunov, SPETZNAZ agent nicknamed "The White Angel of Death"
Steve Fox, who happens to know every move from every boxing anime ever

True Ogre, who really does not belong in this cast

Wang Jinrei, who dispenses more ass-kicking than advice

Yoshimitsu, Manji Clan leader and occasional SoulCalibur star

Zafina, serpentine femme fatale
Holy crap, that was a lot of art! If the home version of Tekken Tag Tournament 2 keeps the "customizable portrait" feature in, which art will you use for your characters?
via Shoryuken