Japanese-English bilingual editions can be imported from Japan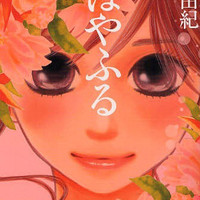 Madhouse's anime adaptation of Yuki Suetsugu's competitive karuta (a poetry based card game) manga, Chihayafuru, garnered quite a log of praise. The original version did well for itself too, winning the Manga Taisho Award and the Kodansha Manga Award. While it hasn't been licensed for North America, Kodansha has begun publishing bilingual Japanese-English editions, featuring text in the two languages, with rough English translations.
Volume 1 and Volume 2 of the edition can be found on retailers such as CD Japan and Amazon under the listing:
[Bilingual] Chihayafuru 1 (KODANSHA BILINGUAL) [Manga (Comics)]
日本語タイトル: バイリンガル版 ちはやふる 1 (KODANSHA BILINGUAL)/ 末次由紀/著 ステュウット・ヴァーナム‐アットキン/〔ほか〕訳
From Crunchyroll's description of the series:
Ayase Chihaya is a sixth grader whose dream is for her older sister to become the top model in Japan. But one day, a transfer student, Wataya Arata, tells her that her dream should be about herself. Arata's dream is to become a famous competitive Karuta player. Chihaya is somewhat shocked when she sees how intense the normally reserved Arata gets about the card game. Eventually, she and her childhood friend Mashima Taichi find themselves being captivated by Karuta. Arata is thrilled by Chihaya's talent and extraordinary hearing, as well as the fact that he has friends to play Karuta with now, but they are forced to go their separate ways after graduating from grade school.


Four years later, Chihaya enters high school and discovers that Arata, who returned to Fukui, no longer plays Karuta. However, she believes that if she continues to play, they will one day be reunited. And so, she and Taichi start a Karuta club at Mizusawa High School.