Unique shop offers nostalgia and a haircut, probably more than two bits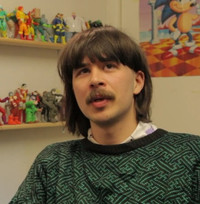 Have you ever wanted to get a trim while shopping for retro games and toys? If so, you might want to hit up Retro Bobby in Copenhagen. Bobby Agren owns his own shop where he offers a trim and the opportunity to sell your old toys and games, or buy some from his expansive collection. You can also barter for a haircut or some of his goods, plenty of which you can see in the following video by Copenhagers, narrated by Bobby himself.
He even has a hi-score competition going on. Play Rad Racer or Tetris while getting your mop chopped. If your score ends up tops, you get a 20% discount on the haircut.
His collection actually looks really awesome. Street Sharks! Biker Mice from Mars! Tons of classic games! What doesn't Retro Bobby have to offer? So long as he doesn't give me the same haircut he has, I'm in.
Via Hypebeast