Kicking, punching, pot, police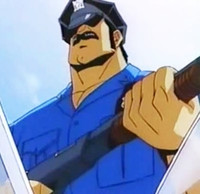 We all know that anime cons can get a little rowdy at times – after all, the inmates have taken over the prison, and hey, anime cons are fun - but a recent ruckus at Anime Boston (on Easter Sunday, no less!) was so buck wild that it made both the cops and the local news step in and take note.
According to BostonHerald.com
Cops were called to the Back Bay Sheraton when a party for fans of Japanese anime got out of control on Easter morning and now the hotel management has been called before the Mayor's Office of Consumer Affairs and Licensing tomorrow.
Police reported "dangerous" overcrowding, pot possession, a passed-out partygoer and an assault at the fete for Anime Boston 2012 fans...April 8, cops showed up at a party at the Sheraton, where they reported removing a "clearly disturbed" 20-year-old male who'd been "kicking and punching" EMTs. Officers also confiscated less than an ounce of pot from two people and tended to an unconscious woman.
Crunchyroll staff, including Keith and Victoria, were at Anime Boston, but (thank our lucky stars) they don't appear to have been involved in the fracas. Or maybe they just don't get invited to those kinds of parties?
Had to happen sooner or later: Sasuke gets arrested for shoplifting at Oni-Con. Pic via shonen swag
While it was all probably the work of "a few bad apples", now still seems as good a time as any to ask you, out of genuine curiosity – rather than a transparent attempt at generating user participation – what's the craziest sh*t you've ever seen go down at an anime convention? Ever seen the fuzz step in, or just WISH they had?
UPDATE! Official statement from Anime Boston regarding these events.
-------
Patrick Macias is editor in chief of Crunchyroll News. He also runs the Japanese Fashion Inferno tumblr blog. Follow him on twitter at @Patrick_Macias.