New project debuts with teaser site and statement from Mikami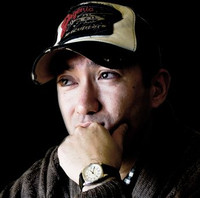 If you've been lamenting the sorry state of the survival horror genre pioneered by Shinji Mikami, the master has returned to his roots with his next project, which is currently named "Project Zwei". The game is such a big undertaking for Mikami that it needs its own teaser site and concept art to explain where he wants to go with survival horror as a game concept.
"Our latest project's codename is "Zwei" and it is a survival horror game. The above image is a collage of different environments we put together for this announcement and is intended to give a feel for the tone and the direction the production is taking. (However, neither the code name nor the image is intended to tell you exactly what is in the game.)"
In an interview published this week in Famitsu, Mikami stated that he wanted to make a survival horror game because he felt that was the best way to meet the expectations of everyone that will play the game and that the genre was familiar to him.
His last major project with direct involvement was the 2010 third-person hybrid shooter Vanquish before leaving Platinum Games and starting up his new studio Tango Gameworks. Zenimax Media, better known as the parent company of Bethesda Softworks, the company behind The Elder Scrolls series now owns the studio as a part of its Zenimax Asia branch of studios.
The game is slated for HD consoles and is still in early stages of development, with Mikami stating that he still needs more staff to develop the game, with the emphasis being placed on programmers in particular.
With Zenimax providing support for the project and having Bethesda act as the publisher, are any of you looking forward to Mikami's survival horror revival? I know the genere's been nearly stagnant judging by the recent Resident Evil games, but if Mikami's taking the lead again, then I have high hopes that he could pull it off.
via Andriasang
---
Humberto Saabedra is the Editor-in-Chief of AnimeNews.biz, PhoneNews.com and an occasional columnist for Ani.me. He can also be found musing on his favorite 2D girls at @AnimeNewsdotbiz.