Smiling Rei week continues with the backstory behind Gendo's decision to shave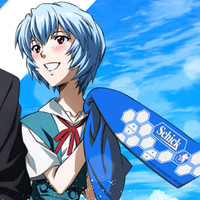 Following that amazing teaser image of Gendo and Kaji shaving, the full Schick x Evangelion has burst out of the depths of Tokyo 3. In a series of three videos, watch the story behind the men of Evangelion's decision to clear their stubble, and the reaction from the female cast.
Japanese consumers will have the opportunity to pick up Petit Eva figures with their Schick razors...
and send away for an incongruously smiling Rei razor holder (with an Asuka one planned for later)
The campaign web site has also launched with features such as a daily horoscope generator.
And, if you register, you can download a wallpaper resolution version of the main campaign image.