Fanservice-filled sequel shows off new screenshots and bonus items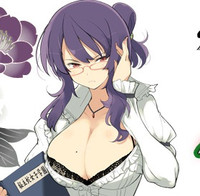 Before we start talking about Senran Kagura BURST, let me just say that I refuse to make an easy joke about this game and its promo tissues. Joseph had some class, so I have to keep my inner nine-year-old in check, as sad as that makes me.
With that out of the way, let me say that the game looks very, very nice. Perfect family fun that will not be awkward at all when somebody peeks over your shoulder to ask what you're playing on your 3DS.
We also got an early look at some of the bonuses available for buyers. Along with the game, you can get a set including the "Girl's Secret File Visual Book," a soundtrack CD, and an audio drama CD.
Y'know what I really want to see for this game? Some gameplay would be really nice. What about you? Was anybody here hoping for a Stateside release of Senran Kagura BURST, so you can make good use of those tissues (sorry) scratch your 3D ninjutsu itch?
via Andriasang