Mag Garden titles include ones out of print in North America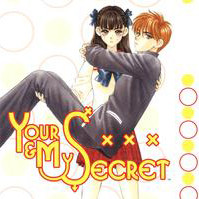 This Thursday's JManga update is a big one, with the English digital debut of five new manga titles from publisher Mag Garden, including ones that are out of print in North America, some of which have been adapted into anime.

tactics Vol. 1
Created by Sakura Kinoshita , Kazuko Higashiyama
Story
The strongest Tengu and the most sinister brain are here! Kantarou Ichinomiya is a folklorist, whose real job is as a monster exterminator. With the help of the legendary monster, Haruka the demon-eating Tengu, he solves all kinds of trouble. A gorgeous manga of monster exterimination!



THE GOOD WITCH OF THE WEST Vol. 1
Created by Noriko Ogiwara , Haruhiko Momokawa
Story
An early work of one of the greatest storytellers of our generation, Noriko Ogiwara, written just after her debut work, "Dragon Sword and Wind Child". In a country called Grall, a young woman's hidden heritage leads her to a surprising destiny… Finally, a manga version of the popular fantasy novels!



Monochrome Factor Vol. 1
Created by Kaili Sorano
Story
Emissaries from the shadows strike from beyond the edges of reality. An occult battle action series at the boundary of this world and the next!



Animal ACADEMY-HAKOBUNE HAKUSHO- Vol. 1
Created by Moyamu Fujino
Story
Neko Fukuda, who's failed every high school entrance exam she's taken, is invited to an
all dorm school in the mountains: Morimori academy. But this school was a school for
inhuman things to learn how to be humans. The students and teachers are all cats, foxes,
raccoons, and other animals that can transform into humans. And Neko, an ordinary
human, has to blend in.



YOUR & MY SECRET Vol. 1
Created by Ai Morinaga
Story
A new generation drama by Ai Morinaga! One day, a plain boy and a strong-willed girl change places, and all kinds of trouble ensues!