Screened at Montreal film festival in one of a couple rare showings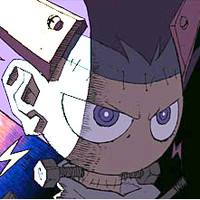 In 2008, Madhouse produced an anime movie adaptation of Sin'Ichi Hiromoto's (Tokyopop-released STONe, the manga adaptation of Return of the Jedi) monster girl manga Hells Angels. The feature screened at Tokyo International Film Festival and 2009's Montreal Fantastic Fest, and hasn't been heard of since... Until now.
After three years of unseen obscurity, in which Hells Angels started to look like an anime project never to been seen again, the movie is now scheduled to be released in Japan on Blu-ray August 3rd, for ¥5,040 ($64). The release will feature English subtitles.
From Fantastic Fest's description of the movie:
Why do the living die? Because they're alive. And where do they go when they die? They go to Hell—but Hell isn't quite the place you've always thought it was. Linne's a lively teenage girl, rushing off to her first day at a new school, promising her mother that she'll make a hundred friends. Oh, she'll arrive at a new school and make some interesting friends, that's for sure, but not at the school she expected. Not in the realm of the living, in fact, for a sudden traffic accident sends her through the gates of the afterworld. By the time she's realized that she's in the afterlife and that her new classmates are demons of hell and not just outlandishly attired urban hipsters, she's already begun to make friends, make a name for herself, and catch the eye of the handsome, smooth-talking student council president. She's also earned the attention of Headmaster Helvis—a fearsome red demon with the dress and manner of the King, baby—and that's not such a good thing. Especially given that something's not right here—Linne can bleed, which means she's alive, and that will have some pretty serious consequences for her and in fact for all of Hell's denizens.

The anime adaptation of Sin-Ichi Hiromoto's distinctive manga series HELLS ANGELS—a startling mix of goofball teenage romantic comedy, rock 'n' roll monster mash and mind-melting cosmic cataclysm—comes care of the respected yet highly daring studio Madhouse, which has previously had a hand in such prominent anime works as PAPRIKA, NINJA SCROLL, PATLABOR, METROPOLIS and countless delightful TV and OVA animes. Director Yoshiki Yamakawa, whose credits include the manga version of STAR WARS: RETURN OF THE JEDI, brings a special flavour to HELLS, opting for a rough-edged yet amazingly detailed and dynamic visual flair, packing this particular underworld with a dizzying array of characters and creatures—Kazita Nakagawa, who did his part for SAMURAI CHAMPLOO, and the demonically inventive Yasushi Nirazawa, a go-to guy for cool monsters, deserve a salute, as do the folks behind the vibrant colouring. Clever, cool, hilarious and horrifying, HELLS is a fresh, funky anime bursting with irrepressible energy.
via @muhootsaver_7