Check out new faces from "Darkstalkers," "Resonance of Fate," and more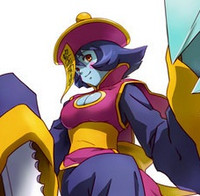 The last time we had a look at massive 3DS Namco Bandai/Capcom/Sega crossover Project X Zone, we got to see the fast-paced battle system and plenty of characters in a gameplay trailer.
While the game is still a ways away, six new characters from all three development houses have been unveiled, adding to Project X Zone's already impressive roster.
First up from Capcom, Dead Rising zombie massacre specialist Frank West and Darkstalkers' adorable jiang-shi Hsien-Ko:
From Sega's camp, we have gun-toting Resonance of Fate heroes Zephyr and Leanne:
And from Namco Bandai's God Eater RPGs, Soma and Alisa join the fight:
And here's a few new screenshots:
If there's one thing I've learned, it's that there's no such thing as "too big" with God Eater characters. Jeez louise, what are you going to kill with something like that? And in true RPG fashion, they probably use those things on hapless town guards and fluffy bunnies.
What characters do you want to see make an appearance in Project X Zone? Sound off in the comments!