Limited Edition DVD set to be released on July 10th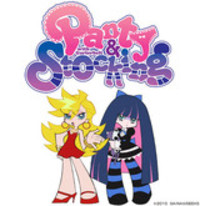 Following up on today's new title announcements, FUNimation also held a dedicated panel for its forthcoming release of 2010's breakout hit Panty & Stocking with Gaterbelt. During the panel the company gave of age attendees a preview of the first two English-dubbed episodes as well as the cast list for the series, found below:
ADR Director – Collen Clinkenbeard
Head Writer – John Burgmeier
Script Writers- Jamie Marchi, Leah Clark, Jared Hedges
Fastener- Christopher Bevins, Corset – Chris Ayres
Scanty- Colleen Clinkenbeard
Kneesocks- Cherami Leigh
Brief – Joel McDonald
Chuck – Ian Sinclair
Garterbelt – Christopher R. Sabat
Stocking – Monica Rial
Panty – Jamie Marchi
And now, the trailer that had press talking earlier this week when it leaked in the latest solicitation guide:
Now the we have an idea of what the dub will sound like, anyone up for buying it despite no Blu-Ray? Me, I'm paying full retail because I love Hiroyuki Imaishi's work and the guy gets no respect.
---
Humberto Saabedra is the Editor-in-Chief of AnimeNews.biz, PhoneNews.com and an occasional columnist for Ani.me. He can also be found musing on his favorite 2D girls at @AnimeNewsdotbiz.