The second woman to receive the award following 1982's recognition of Sazae-san's Machiko Hasegawa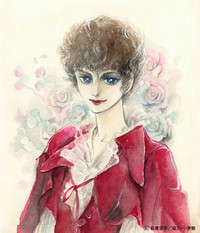 Moto Hagio is a "founding mother" of shoujo manga as part of the "Year 24 Group" who pioneered shoujo manga written by women, with a new perspective on gender identity issues and elements such as shōnen-ai. This spring, her artistic contribution will be recognized with the biannual Medal With Purple Ribbon award.
Hagio is the first shoujo manga author to receive the honor. Prior manga creators to be recognized with the Purple Ribbon include Fujio Akatsuka (Tensai Bakabon), Tetsuya Chiba (Ashita no Joe), Leiji Matsumoto (Captain Harlock), Shigeru Mizuki (Ge Ge Ge no Kitaro), and Machiko Hasegawa (Sazae-san) - the first woman to receive the award.
Prior to the manga boom, Viz released her A-A' and They Were Eleven, but more recently, Fantagraphics made her work available to more manga readers with the short story collection Drunken Dream and Other Stories and the upcoming Heart of Thomas.