Takes opportunity to pose for photos with Pikachu, Meloetta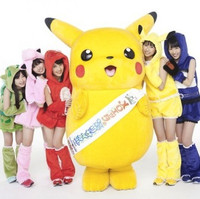 Momoiro Clover Z announced yesterday that they'll be singing the new end song for Pokémon Best Wishes, and it will also be used for the short accompanying this summer's Pokémon movie, "Meloetta's Glittering Recital."
Charmander, Pikachu, Jigglypuff, Bulbasaur, and Croagunk costumes for MomoCloZ
The news came out of a special concert in Toda, Saitama (Japan) for kids, "Momokuro no Kodomo Matsuri da yo Zenin Shūgo!" (Something like, "It's MomoClo's Kids Festival! Come on everybody!"). The new theme "Mite Mite Kotchitchi" ("Look look over here!") will be included on their new single (as of yet untitled) coming June 27th. The lyrics and music are by the same duo that brought us the first Pokémon theme, "Mezase Pokémon Master," and many others: Hirokazu Tanaka and Akihito Toda.
Momoiro Clover Z performing "Mite Mite Kotchitchi" as Pikachu and Meloetta stand by
MomoCloZ member Reni Takagi joked, "At last some poser idols like us have been chosen to sing the end theme of a nationally popular anime. At this rate we should start preparing for [the popular Japanese year-end music TV programs] 'Toshiwasure Nippon no Uta' and 'NHK's Kouhaku Uta Gassen!' Everybody please be looking forward to that."
Kanako Momota added to the tongue-in-cheek self-belittling: "I'm really happy we get to sing the end theme of a nationally popular anime. There are actually nationally popular idols, so I think we'd like to go with being the 'nationally popular poser girls.'"
You may know Momoiro Clover Z from the Bodacious Space Pirates themes. They also did the end themes for Yosuga no Sora and Dragon Crisis!
The new Pokémon Best Wishes theme goes on air May 17th and Kyurem vs. the Sacred Sword Master Keldeo (accompanied by "Meloetta's Glittering Recital") hits Japanese theaters July 14th.
Source: Natalie via Hachima Kikou