Latest PR scheme startles weekend shoppers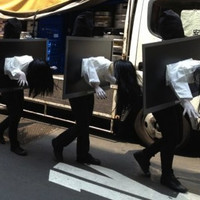 I was in Shibuya this afternoon, but saw nothing like this:
It's an army of Sadako from Ringu (remade as The Ring in the states) out in force to promote the movie Sadako 3D. This is the latest PR push, but others include Hello Kitty tie-in goods and Sadako throwing the opening pitch of a baseball game a couple weeks ago.
About 50 people were wearing the creepy costume.
They were going to be out until 5 PM, but there was a storm so I wonder if they left early.
The accompanying advertruck features a giant Sadako reaching out the back.
Sadako 3D hits Japanese theaters in less than a week, on May 12th.
via Yaraon!, TV Asahi News