Apparently, delivering fist-based pirate justice is one of life's great joys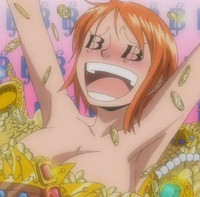 There's a specific, perfect moment in every single One Piece story arc. It comes without fail, and every single time it's just as inspiring and exciting, whether the villain is a genuine threat or a total pushover: it's when Luffy, in slow motion, cocks his arm back while everybody else watches, and delivers a single, Earth-shattering punch to the villain's jaw... the smoke clears, the villain is down, and all is right with the world. You almost want to cheer alongside everybody else in the manga (or anime)--it's that cathartic.
It looks like more people love that feeling than you'd expect, as One Piece: Pirate Warriors is selling like hotcakes over in Japan, and is very close to hitting the one-million mark--940,000 units, to be exact, only slightly lagging behind top seller Dark Souls (1.19mil) and Ace Combat: Assault Horizon (1.07mil, but why?).
What makes this noteworthy is that Dark Souls and Ace Combat: Assault Horizon's numbers are international and multiplatform--One Piece: Pirate Warriors is a PS3 exclusive that has so far only been released in Japan.
We already know the game is headed for a North American release in late 2012--will you be picking it up?
via Andriasang