No full title or release date details yet, but we'll keep our ear to the ground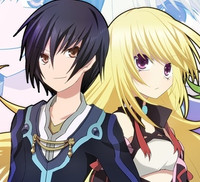 So I think it's about time I made a confession: I haven't played many of the Tales games (outside of a long stretch of Symphonia co-op), although this news may get me to start. Better late than never, right?
The newest title in the series, which Namco Bandai is currently counting down to, was recently revealed to be a Mothership title--meaning that it's not a follow-up or remake of a current title, and is instead its own standalone title.
Watch--in 19 days, they'll announce that the game is being developed by Ninja Theory
There's the countdown image--what do you think it's going to lead to? Will it be a PS3 exclusive, like Tales of Xillia, or is Namco Bandai going to make another portable entry? Probably the 3DS, since Tales of Hearts was a DS exclusive and Tales of the Abyss got a 3DS port?