Despite director's outcry against some online fanart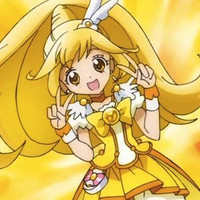 A fan created a well-made but rather unbalanced, color-wise, cover for the "Pretty-Cure Musou" game it appears many are yearning for:
Comments included:
YESSSSSSSS.
I reserved it.
Too much pink
What, is this gonna be, a yuri game?
The drawings are awful, jeez.
18 and up?!?
I reserved 10 copies.
More than one person commented on the CERO mark. Why 18 and up when this show is supposed to be for kids? It's almost as if this thread went up to spite longtime Precure director (currently the series director on Smile Precure!) Takashi Ōtsuka, who tweeted today about some issues they've been having with fanart:
I'd like people to stop creating stills of broadcast images, editing and collaging them [or photoshopping], and posting them on the Internet. We're troubled by complaints from people who are mistaking them as what was actually broadcast. Taking that situation into account, there are cases where the production of the original story has been forced to comply with essentially unnecessary regulation.
Also, [the fanart in question] is simply not pleasant. On the Internet many people of all ages can seem it. I'm glad you're enjoying the show, but I beg you to please keep in mind the moral aspect of it being made for children. My ability as a director is poor, but next week we'd like to broadcast some more fun stuff.
It seems like there is a lot to discuss here. On the one hand, it's true that if you search for certain characters you get some adult image results, but on the other hand, one could argue that is why parents have to be extra careful with what they let their kids do on the Internet. What do you think about the box art? Let us know in the comments!