Second season of anime series follows live-action adaptation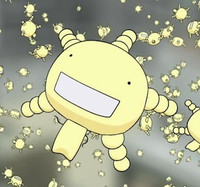 Following up on our last post detailing the returning staff for the 2nd anime series, the official website for Moyashimon Returns has been updated with the start date and network list of channels airing the series.
As its a noitaminA joint, the majority of channels participating are either suburban and rural repeaters for Fuji TV or the BS-i broadcast satellite network. The site update also includes a new TV ad featuring the micro-organisms that proved to be a very popular part of the animated series.
The series picks up directly from the first season and follows agriculture student Tadayasu Sawaki and his frequent misadventures as a result of being able to see and interact with micro-organisms. Funimation previously simulcast the live-action adaptation of the franchise when it featured the noitaminA block under a then new arrangement with Fuji TV in 2010, but never really did much to push the series.
With the new season airing smack in the middle of Summer, any thoughts on whether you'd like to see it on Crunchyroll?
---
Humberto Saabedra is the Editor-in-Chief of AnimeNews.biz, PhoneNews.com and an occasional columnist for Ani.me. He can also be found musing on his favorite 2D girls at @AnimeNewsdotbiz.