School comedy OVA comes bundled with 7th volume of manga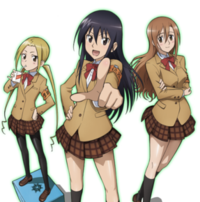 I've been on school councils from middle school all the way through college, and let me tell you: it's not all fun and games... unless of course you're talking about anime and manga that focus on school councils, because for real, no work ever gets done in anime schools.
Seitokai Yakuindomo is about the student council for a former all-girls school, and the lone male member of said student council. Comedy ensues! Check out this trailer for a new OVA that's going to be bundled with the manga's 7th volume:
On second thought--that doesn't look like a comedy. It's a horror series. Those girls are going to eat him alive.
Do we have any Seitokai Yakuindomo fans here? Am I wrong in worrying about the main character?