Continues right where the 80s Japanese-French co-production left off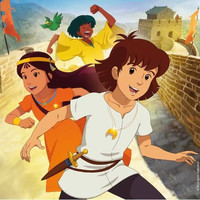 We've been covering a certain nostalgic 90s-00s reboot lately, but how about some love for the 80s? Does anyone remember The Mysterious Cities of Gold? Possible spoilers.
A Japanese-French co-production from Studio Pierrot (Naruto Spin-Off: Rock Lee & His Ninja Pals, Beelzebub) and Dic AudioVisuel (Inspector Gadget, Captain Planet and the Planeteers), the 39-episode series was broadcast on networks from NHK to Nickelodeon. The story takes place in the 16th century as a ragtag Spanish crew sets sail for South America to find the Seven Lost Cities of Gold (and hopefully find protagonist Esteban's father). Wikipedia describes it as " a mix of ancient South American history, archaeology, and science fiction."
This time Esteban, Zia, Tao, and the rest of the gang actually end up leaving South America and heading to China and Japan because who knows where the other six Cities of Gold could be? Each episode (of a supposedly planned three seasons) will also contain a mini-documentary so you can learn some facts behind the places the characters visit in the show. Jean Chalopin, Mitsuru Kaneko, and Bernard Deyriès from the original series pitched in on the new French production (with animation by Blue Spirit).
The series has been in the planning stages for years, but we finally have some screencaps, along with other images. Check them out below:
Broadcast has been delayed, but will take place on TF1 after a re-airing of the 'first season.'