Kickstarter takes almost three times its goal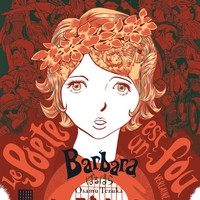 Back in January, Digital Manga Publisher launched a campaign on crowd-funding site Kickstarter to fund the release of legendary manga author Osamu Tezuka's mature work Barbara. Fans responded by pledging almost three times its $6,500 goal. Now, the publisher has shown off the shirt and poster to be offered with the book.
From DMP's post:
The Poster
This 18"x24" poster will be screen-printed in six colors. The design was created by Digital Manga graphic designer Matt Akuginow using art from the book. The inscription is from a poem by Paul Verlaine, who is quoted extensively in "Barbara." It means "The poet is a madman." The full stanza reads:
Le poète est un fou perdu dans l'aventure,
Qui rêve sans repos de combats anciens,
De fabuleux exploits sans nombre qu'il fait siens,
Puis chante pour soi-même et la race future.
Which means (in my own very kludgy translation):
The poet is a madman lost in adventure,
Who restlessly dreams of ancient battles,
Of numberless exploits he makes his own,
To sing them for himself and the men of the future.
The T-shirt
This T-shirt is being printed for us at Forward Printing in Oakland, CA on 100% made in the USA cotton T-shirts from American Apparel. We'll be using water-based ink for a super-soft pattern that will last a long time (read this for more information on why this is awesome). It will be available in unisex sizes from S to 3XL and in Ladies' sizes from S to 2XL. (Larger sizes may be available if needed, so send me a message if you need them.)
How do I get one?
If you're not a backer or your reward level doesn't include a T-shirt or poster and you want to receive one, CLICK HERE. Fill out the survey and we'll get in touch with you.
Important notes about this:
Both of these rewards are exclusive promotional items that will never be printed again and will never be sold at retail.
If you are a current backer who's already pledged high enough to receive the poster and/or T-shirt, you don't need to do anything. You will get the chance to select the poster and/or T-shirt in our rewards survey, which will be coming soon.
If you are not a current backer but want to become a backer to receive the poster or T-shirt, you will be able to add a new pledge at the $60 or $110 levels so as to receive a poster or T-shirt (along with all the other rewards that come with those pledge levels).
If you are a current backer, you can either raise your pledge level to receive a poster or T-shirt or keep your current pledge level and simply add a poster or T-shirt on top of it.
You cannot use this form to decrease your pledge level below what you've already pledged.
The images here are mockups and the final products may not look exactly the same.
"Put simply, Barbara is the story of a man caught between artistic decadence and madness." - Osamu Tezuka
Barbara opens with famous author Yosuke Mikura wandering the packed tunnels of Shinjuku Station, where he makes a strange discovery: a drunk woman, her rags caked in mud, who can quote French poetry. Her name is Barbara. He takes her home for a bath and a drink, and before long Barbara has made herself into Mikura's shadow, saving him from egotistical delusions and jealous enemies. But just as Mikura is no saint, Barbara is no benevolent guardian angel, and Mikura grows obsessed with discovering her secrets, tangling with thugs, sadists, magical curses and mythical beings - all the while wondering whether he himself is still sane.
------
Scott Green is editor and reporter for anime and manga at geek entertainment site Ain't It Cool News. Follow him on Twitter at @aicnanime.