Hatsune Miku, Godzilla, Iron Man, Alien, and more!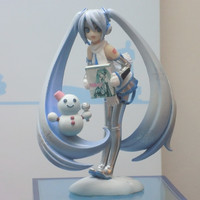 Kaiyodo, one of the most successful Japanese garage kit/figure manufacture, opened W.F. Cafe (Wonder Festival Cafe) on the B1 floor of the AKIBA Cultures Zone building on October 1, 2011. As the name showed, the cafe's theme was the biggest garage kits event in Japan, Wonder Festival, which has been held by Kaiyodo itself.
Due to unprofitable operations, the cafe was closed yesterday, on May 20, after only eight months. The official blog explains the biggest problem they had was poor attendance number and sales of the weekday. The Akihabara town is always chockablock with tourists during weekend, but not so much on weekdays unfortunately. I had an opportunity to visit the cafe before it closed for the last time. Check the photos for your memory.
*all the photos were taken by Mikikazu Komatsu
AKIBA Cultures Zone
Floors guide
Bishoujo stairs
Life-size Danbo (Yotsuba&!) Starship Troopers edition
Oh! My Goddess! statues