In which I wonder about the effectiveness of such a ball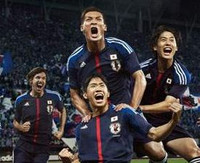 In preparation for its soccer matches during the Olympic Games in July, Japan has come up with a novel way to train its national team. Aside from using the regulation soccer ball for drills, a new ball is being used for player training that looks rather similar to onigiri. When asked about training with the ball, goalkeeper Takuya Masuda remarked to newspaper Nikkan Sports that it was good practice.
©Nikkan Sports
The ball itself is being hailed as a fun alternative to the standard ball and is said to improve concentration and reaction times, as the players have to work harder to stop and control the ball. Whether it makes a measurable difference in actual gameday performance remains to be seen, as the team is seeded in Group D and is facing Spain in its first match on July 26th.
The team is also said to be using volleyballs in training, a testament to its committment to use novel training methods to improve its overall performance. I wish them the best of luck on their Olympic journey. What do you think about their training methods?


---
Humberto Saabedra is the Editor-in-Chief of AnimeNews.biz, PhoneNews.com and an occasional columnist for Ani.me. He can also be found musing on his favorite 2D girls at @AnimeNewsdotbiz.