Two CD "- (° ∀ °) -!! Best ☆ Shokotan" to be released June 4th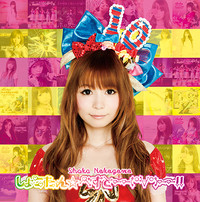 Otaku celebrity idol/actress/voice actress/illustrator/manga artist/singer/blogger Shoko Nakagawa, aka "Shokotan," is celebrating the 10th anniversary of her debut with the two-disc "- (° ∀ °) -!! Best ☆ Shokotan" compilation. The package includes a CD of anime song covers and a CD of her singles, from her first, 2006's "Brilliant Dream," up to this January's "Horoscope."
The collection, due June 4th, will be available as a standard version for 4,000 yen ($50), with a special extra mix CD for 5,000 yen ($62) and a deluxe version with a DVD of her performance at Nakano Sun Plaza for 7,000 yen ($87).
Tracks include:
Disc 1
1.
Sorairo Days(3rd Single)
 
2.
6:00AM (9th Single c/w)
 
3.
Flying Humanoid(12th Single)
 
4.
Sakurairo (13th Single)
 
5.
Horoscope (15th Single)
 
6.
Brilliant dream(1st Single)
 
7.
Shiny GATE (5th Single)
 
8.
Tsuyogari (14th Single)
 
9.
Strawberry Melody(2nd Single)
 
10.
Kokoro no Antenna (8th Single)
 
11.
Kirei A La Mode (7th Single)
 
12.
snow tears (4th Single)
 
13.
"Arigatou no Egao"(10th Single)
 
14.
Namida no Tane, Egao no Hana(9th Single)
 
15.
Tsuzuku Sekai(6th Single)
 
16.
RAY OF LIGHT(11th Single)
 
Disc 2
1.
Hanbun Fushigi
 
2.
1/2
 
3.
God Knows
 
4.
Koigokoro
 
5.
Zankokuna Tenshi no Thesis
 
6.
Tamashii no Refrain
 
7.
eternal wind
 
8.
Yuzurenai Negai
 
9.
Rinbu-revolution-
 
10.
Seikan Hikou
 
11.
Diamonds
 
12.
Aoi Photograph
 
13.
Romantic Ageruyo
 
14.
Sorairo Days [Mandarin Version] (new song)
 
15.
Horizont (new song)
 
16.
apple universe (new song)
 
17.
soufflé secret (new song)
------
Scott Green is editor and reporter for anime and manga at geek entertainment site Ain't It Cool News. Follow him on Twitter at @aicnanime.