2nd OVA episode to be released on June 18th with 47th manga volume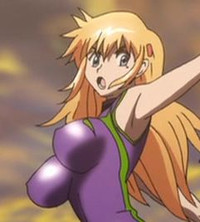 The official website for Weekly Shonen Sunday posted the second eight-minute clip for the second OVA episode of Kenichi: The Mightiest Disciple. The manga has already had a TV series adaptation which was licensed by FUNimation and the new OVAs have the majority of the TV series cast save for Rie Kugimiya, who is replacing the late Tomoko Kawakami, and Yuzuru Fujimoto, who replaces Hiroshi Arikawa, with both Kawakami and Arikawa having passed away within the past year.
In a related development, the Twitter account for Shonen Sunday tweeted a rather awesome high resolution picture of a bonus clear file featuring Raichi Li and Renka Ma being included in July's issue, which will be released on Friday in Japan:
Scott Green contributed to this report.
---
Humberto Saabedra is the Editor-in-Chief of AnimeNews.biz, PhoneNews.com and an occasional columnist for Ani.me. He can also be found musing on his favorite 2D girls at @AnimeNewsdotbiz.