Collectors Set to reflect 25 years of the world's most popular fighting game franchise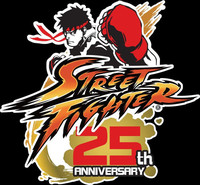 This morning, Capcom took the wraps off of its plans to celebrate the 25th anniversary of the Street Fighter franchise, and the publisher is expectedly going all out to celebrate one of its oldest franchises which has seen as resurgence of popularity in recent years thanks to the rise of the tournament community.
Holding the celebration together will be the September 18th release of the Street Fighter 25th Anniversary Collector's Set for the Xbox 360 and PS3. The set, which will retail for $149.99 will feature the following games and exclusive content:
Super Street Fighter II Turbo HD Remix, Street Fighter III 3rd Strike Online Edition, Super Street Fighter IV Arcade Edition with all costume DLC, and Street Fighter X Tekken including all character and Swap Costume DLC.
Exclusive Video – The two-disc Blu-Ray set includes a documentary that highlights the profound influence the franchise has had on fans - and vice versa - throughout the years. The collection of videos also includes Street Fighter®IV and Super Street Fighter®IV Anime movies as well as all episodes of the Street Fighter animated series and Street Fighter®II: The Animated Movie.
Light-up Ryu Statue – A specially commissioned and highly-detailed collectable Ryu statue stands prominently at 8" tall and features the iconic character in mid-Shoryuken, with flames lit from below.
11-Disc Soundtrack – Street Fighter game music spanning the past 25 years, in addition to remixes and fan-created music inspired by past Street Fighter games .
64-page Hardcover Art Book – A tribute to Street Fighter game fans from all over the world, the art book includes fan pieces submitted by professional and aspiring artists alike.
Ryu's Belt – Created to regulation specs, the full-size martial arts black belt is a replica of the one Ryu wears and even includes his classic "Fūrinkazan" in kanji!
Certificate of Authenticity – Each Collector's Set comes individually numbered complete with a certificate of authenticity.
To round out the celebration and release, Capcom has also announced a soon-to-be launched website and a new tournament series with the following dates:

• July 28-29 in Austin, TX
• August 11-12 in the NY area (location pending)
• August 26 in Taipei, Taiwan (location pending)
• Mid-September in the Tokyo Region, Japan (date and location pending)
• September 27-30 in London, England (in conjunction with Eurogamer Expo)
• October 13-14 in Sao Paulo, Brazil (in conjunction with Brazil Game Show)
• October 27-28 in Los Angeles, CA
• October 31 – November 4 in Paris, France (in conjunction with Paris Games Week)
• December 8 Finals in San Francisco, CA
The tournament is worth over $500,000 in cash and prizes with the grand prize being a customized Scion FR-S to be given away at the Grand Finals tournament on December 8th for the first place Street Fighter x Tekken finisher. With all of this being done to celebrate the 25th anniversary of the franchise, it looks like Capcom wants to wipe the slate clean of its past issues and try to draw the diehard fanbase back in.
With all that said, who's up for buying the collectors set?
---
Humberto Saabedra is the Editor-in-Chief of AnimeNews.biz, PhoneNews.com and an occasional columnist for Ani.me. He can also be found musing on his favorite 2D girls at @AnimeNewsdotbiz.