Get a look at the Capcom/Sega/Namco Bandai crossover's field and event screens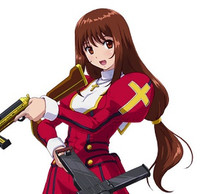 Remember how I said in the Natestalgia about the Nintendo DS that handheld games suck your life away? The more I see of it, the more it looks like Project X Zone will be the next title in the "make sure Nate never does anything productive ever again" library.
We recently got to take a look at the gameplay system's inner workings as well as some screenshots of the new characters--here's some character artwork of recent additions to the game's ever-growing roster, and screenshots of the game's field and dialogue events.
Goodbye, free time... if Project X Zone ever gets released in North America, anyways. What do you think? How is the game shaping up to you? Which characters do you want to see join the cast of Project X Zone?
via Andriasang