Aniplex announces a ton of new developments during Fanime 2012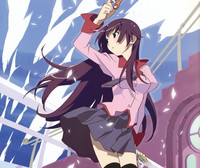 Aniplex USA took to the Fanime anime convention to showcase their newest developments for the year and did not disappoint as the distributor used its industry panel to confirm the following:
Sentai Filmworks is confirmed as the licensor for Fate/Stay Night Unlimited Blade Works
Aniplex will take pre-orders for the second volume of Fate/zero on Blu-Ray starting June 1st for release on September 9th simultaneously with the Japanese release
Bakemonogatari will be receiving a new sub only boxset release this Fall on Blu-Ray with no plans to dub either it or the sequel series Nisemonogatari. Unfortunately, there are also no plans to stream Bakemonogatari.
Aniplex does not have plans to go back and dub either Blue Exorcist or Fate/Zero
OreImo will be re-released later this summer in a lower-priced DVD edition
Baccano will be re-released following its previous limited Blu-Ray box release
Kara no Kyoukai/Garden of Sinners will be released in a new limited edition DVD boxset this Fall
With these new developments for Aniplex coming up the year, what is everyone most looking forward to?
Corrected to reflect new information
---
Humberto Saabedra is the Editor-in-Chief of AnimeNews.biz, PhoneNews.com and an occasional columnist for Ani.me. He can also be found musing on his favorite 2D girls at @AnimeNewsdotbiz.