26 episodes crunched into 90 minutes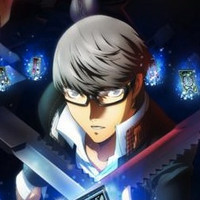 A re-edited version of the Persona 4 anime will see limited theatrical release in Japan starting June 9th. PERSONA4 the Animation -the Factor of Hope- is a new cut of the 25 TV episodes of the show, plus the unaired episode that was included on the 10th DVD and Blu-ray, "True End Story" for a total of 90 minutes. It focuses mainly on the serial murders and abductions going on in the town of Inaba.
Attendees receive a gift of film stickers:
Ticket pre-sales begin on Monday. If you purchase at Animate stores (a regular ticket is 1,800 yen or almost US $23, but these cost 200 yen more), you get a poster featuring the key visual, or if you purchase at one of the ten theaters screening the movie (generally in the Kanto, Kansai areas), you get post cards (and it's actually 300 yen cheaper than a day-of ticket).
To kick things off, the following cast members will be present at a midnight screening June 9th in Shinjuku:
Daisuke Namikawa (Yu Narukami)
Shōtarō Morikubo (Yosuke Hanamura)
Kappei Yamaguchi (Teddie)
These tickets run 3,000 yen (almost $38).
Are you curious to see how the show has been re-edited?
The Factor of Hope Official Site
via Yaraon!