The theme song for "BLOOD-C The Last Dark"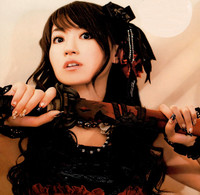 We reckon some of you guys must be...or should be...fans of Mizuki Nana, both for her career as an anime + game voice actress (Naruto and Resident Evil: Revelations to name two credits), and for her escapades as an accomplished singer-songstress.
Now, Nana has delivered her latest song and promotional video. METRO BAROQUE is the theme from the upcoming BLOOD-C: The Last Dark animated film (due for release on June 2).
Mizuki will also be providing the pipes for the main character of Saya Kisaragi in the movie as well. Here's a pic of her along with Kenji Nojima at a press event for BLOOD-C: The Last Dark.
-------
Patrick Macias is editor in chief of Crunchyroll News. He also runs the Japanese Fashion Inferno tumblr blog. Follow him on twitter at @Patrick_Macias.